VISIONARY GAME CHANGER OF THE MALAYSIAN TOURISM INDUSTRY
Muhammad Bakhtiar Wan Chik is a man of vision and is no stranger to creativity and innovation. As the Deputy Minister of Tourism, Arts and Culture Malaysia, he has been leading the charge to bring the tourism industry in Malaysia to new frontiers. It is his aspiration to put Malaysia firmly on the world map of top tourist destinations and also to establish sustainability measures for Malaysia's cultural and heritage resources. In a recent interview with Asean Food and Travel, the dynamic and affable Bakhtiar talks about his background, the on-going efforts of his Ministry, his plans and aspirations for the tourism industry of Malaysia and Visit Malaysia 2020. 
Muhammad Bakthiar Wan Chik was born and raised in one of the biggest islands and tourism hotspots in Malaysia – Penang. After  completing high school, he was offered a scholarship to further his studies in the United States. Upon his graduation with a Bachelor's Degree of Science in Business Administration (Marketing) from the University Tuscon, Arizona, Bakhtiar returned to Malaysia and started his professional career in the private sector before he forayed into the world of politics.
Throughout his childhood and adolescence, Bakhtiar grew up having first-hand experiences of the diverse cultures and practices, cuisines, languages and the like that are so typically Malaysian. He reminisces about the cultural diversity and racial harmony he experienced growing up in Penang and having a Chinese mother and a father who is Malay.
"I must say that people from Penang are 'colour blind' as everyone lives harmoniously in a multi-racial environment. Such an environment spurs you to appreciate and value people of different races and cultures.  During my school days I had no qualms about mixing with the Chinese and Indians and I have many such friends with whom I still keep in touch until today. The racial tensions that we have in our society today were non-existent then," says Bakhtiar. "The beauty, and one can say blessing, of being a Penangite and a Malaysian is the diversity and richness of our cultures and backgrounds," he adds, "and it is my desire to live in peace and harmony as a true Malaysian."
When asked about his favourite food in Penang, Tuan Muhammad says without hesitation, "Oh, mee rebus mamak and mee sotong. As a young boy my father used to take me out, and we would go to some of our favourite spots and order one or two skewers of satay, not like 50 skewers (he chuckles) and roti canai. The habit of ordering just a couple of skewers stayed with me until this day."
Bakhtiar's father who was a policeman, had held strong disciplinary principles which were also applied at home. "My father was very strict when it comes to discipline and I have inherited my father's overall qualities, among which is punctuality for meetings, even for this interview session," he says with a smile. Coincidentally, Bakhtiar had just returned to Kuala Lumpur in the morning after attending the Penang International Container Art Festival (PICAF) on the day of this interview session. The PICAF is the latest large-scale street art attraction in Penang, presenting a collection of vibrant urban art on forty-foot containers installed across five locations – Kampung Terang in Balik Pulau, Prangin Mall in Georgetown, Karpal Singh Drive in Jelutong, Aspen Vision City in Batu Kawan and Dataran Pemuda Merdeka in Butterworth.
Guided by the theme, 'Penang Local Identities', Bakhtiar explains that the various pieces of art in essence depict the true values and heritage of the people of Penang.  "The piece that is curated in Balik Pulau is located right in the middle of the paddy fields. The contrast and framing of it is really interesting and 'instagramable'."
Bakhtiar, who is a true blue Penangite, is certainly the go-to person for recommendations for tourist destinations in Penang that should not be missed. "Definitely Balik Pulau! Balik Pulau is a hidden gem in Penang. When one says that Penang is the Pearl of the Orient, Balik Pulau must be the source for such reference – because you can only find pearls in Balik Pulau. The people there are really friendly and romantic," says Bakhtiar with a twinkle in his eye.
"In terms of popularity, Georgetown is the most visited city in Penang. However, I find Georgetown too commercialised. I myself prefer a more relaxed holiday," says Bakhtiar. "Compared to Georgetown which is congested with heavy traffic on its narrow roads, Balik Pulau on the other hand is known for its lush greeneries, tranquil countryside attractions, agriculture and of course, durians."
The inaugural Balik Pulau Festival 2019 was mooted by the Deputy Minister himself last year. "It was one of the most successful events hosted in Penang last year, and it really created a brand for itself with a new and trendy concept. Somehow, we managed to showcase and promote Balik Pulau to local and international visitors alike, and it is now one of the top emerging tourist destinations in Penang," reveals Bakhtiar.
"On the heels of the successful Balik Pulau Festival 2019 and the current on-going PICAF, we are determined to continue creating interesting activities and instagramable views to attract the free, independent travellers seeking new experiences off the beaten track, many of whom are millennials," he adds.
The Visit Malaysia campaign began in 1990 and since then Malaysia has successfully held multiple campaign events to highlight the best of what Malaysia has to offer as one of the top tourist destinations in Asia. "For this year's campaign, Visit Malaysia 2020 – the two main focus areas will be ecotourism and cultural tourism. There is an abundance of attractive natural sites in Malaysia and there are many of which I myself knew nothing about until recently. We want to expand the scope of tourism in this country to cover cities with low tourism traffic such as Kota Bharu in Kelantan, Kuala Terengganu in Terengganu, Desaru in Johor, Alor Star in Kedah, Kundasang in Sabah and many more," says Bakhtiar.
Bakhtiar strongly believes that tourists today desire more than just sightseeing in the big cities and staying in plush hotels. "The ease of access to travel information and affordable options nowadays have sparked their interest to explore further and to support local communities while aiding conservation and sustainability efforts. More than 60% of tourists want to go to second or third tier cities during their travels.  They want to explore beyond the city walls for an adventure of their lifetime,' he says.
"I know that Malaysia has plenty of awesome tourist sites that are either hidden or forgotten. My recent travels within the country have reminded me of the beautiful destinations that Malaysia has to offer. For instance, the blue waters and sunset in Sabah are just magnificent. Not forgetting the pristine beaches in the East Coast, Redang, Pulau Sibu, Perhentian Island and, the list goes on. We literally have every good thing here in Malaysia, the mountains, beaches, rainforests, wildlife and of course, the glorious food,' says Bakhtiar with a big smile.
Bakhtiar feels Malaysia can have its own wildlife attractions too, just as Australia has five wildlife attractions comprising marsupials and native animals such as the koala, wombat, wallabies, kangaroo and the dingo. "In Malaysia we can also focus our attention on the unique wildlife animals of this land such as the proboscis monkey, pigmy elephant, orangutan and others to create our very own wildlife attractions for tourists," he says.
"You know, in Malaysia we have more than 50 ethnic groups (including those from Sabah and Sarawak) and all these groups have their own distinctive culture, language, lifestyle, unique practices, craft skills and food," reveals Bakhtiar with a sense of pride. "I am also getting to know more and more about these ethnic groups and their cultures and way of life, something that I did not know before."
Bakhtiar shares that his Ministry currently supports and actively promotes some 4,200 homestays in Malaysia. "The aim is to encourage more tourists to have an authentic and memorable experience of local culture and lifestyles when they put up in these homestay accommodations. Experiential tourism is the current trend for travellers as it provides a more engaging and meaningful travel experience that connects tourists with local history, people, culture, food and the environment," he explains. "Attracting tourists to 'hidden gem' rural destinations and homestay accommodations will benefit the local communities, support local food vendors, boost cultural activities and so forth in an economic sense as well," he adds. "I believe that millennials look for a different kind of experience and adventure when they travel. They want to feel the heartbeat of the land, culture of the locals, their way of life and their history as well."
Bakhtiar says that the focus of tourism should not only be on international tourists but it is also important to encourage Malaysians themselves to explore all that the country has to offer as many of them are unaware of the diverse ethnic groups, cultures and exotic tourist destinations that Malaysia is blessed with. "You may not need to always go abroad for your travels. There are so many wonderful travel experiences to be had in your very own backyard," he adds. "Since I have taken up the position of the Deputy Minister of Tourism, Arts and Culture I have had the opportunity to travel around Malaysia and have been pleasantly surprised by all the fabulous spots and amazing destinations that I was not even aware of in the first place."
Bakhtiar also has plans to work with his team to enhance and upgrade the museums in Malaysia. He believes that a well-curated museum will inspire people to venture out to new places or countries that they had never dreamt of visiting. "The museum can be an effective catalyst to promote tourism. We plan to bring in international artefacts and blockbuster exhibitions to be displayed alongside local artefacts and crafts to draw tourists from neighbouring countries," he says. "Last year, our National Art Gallery hosted the Leonardo Da Vinci 'Opera Omnia' exhibition which included a replica of the Mona Lisa as the blockbuster piece. During the month-long showcase, it attracted over 90,000 visitors to the gallery."
Further efforts in increasing awareness and promoting Visit Malaysia 2020 sees the Ministry participating in various industry trade shows overseas that includes meeting with travel agents and even wedding planners as Malaysia has, over the years, become a preferred wedding venue for many.
Closer to home, the Ministry is also promoting Transit Without Visa (TWOV) to travellers from the Indian subcontinents who are en route to countries such as Japan, Thailand, Australia, South Korea, New Zealand and China. The Transit Without Visa facility gives transiting visitors 120 hours visa-free stay in Malaysia. "We hope that this will encourage transit passengers to have a short stay here in Malaysia. We are able to cater to some two million passengers from India through airlines that include Malindo, Indigo, Malaysia Airlines and Air Asia but we only have some 750,000 of them landing and spending time here in Malaysia," laments Bakhtiar.
As for  the Deputy Minister, work challenges abound as with any work position or endeavour. He shares that one of his biggest challenges is trying to build new ideas and new ways of doing things. "In today's environment we need to be more creative to be able to attract the new generation of millennials to tour Malaysia. Marketing campaigns and activities need to be catchy and colourful. We need to keep up with the latest trends and leverage on it," he says. "I also believe we need a proper change of attitudes and mindsets and be bold enough to step out of our comfort zones to make a change for the better."
Bakhtiar acknowledges the benefits of riding on digital information channels in this era of big data, digital technology and social media. "We need to embrace digital marketing, accurately define our target audience and streamline our marketing efforts. This way, we can focus our energy and maximise our efforts in bringing tourism in this country to greater heights."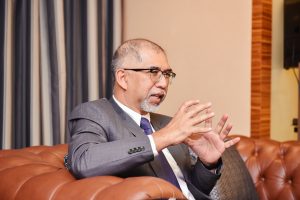 The Deputy Minister advises those in the tourism industry to keep abreast with the latest trends. "Leverage on big data, do your research and focus your energy, marketing, PR and advertising efforts on promising countries. Improve your knowledge and skills in digital marketing, artificial intelligence and big data."  "And perhaps you can also seek the help of Mr. Google as he knows best," he jokes. "We can't keep doing what we were doing 20 years ago."
The naturally humble Bakhtiar considers having a 'team player' mindset and disposition as a crucial characteristic for members of his team. In addition, being competent is essential too. "In building and having a good team, you need to work with competent people with the right mindset. If you are incompetent with a less-than-desirable attitude, then I'm afraid you're on the wrong bus."
Bakhtiar is not into formal protocol even though he is the Deputy Minister. "I love going around the office on an impromptu basis and casually sit down to have a chat with the staff. I have on various occasions surprised my staff with my unannounced visits. This way, I get to hear them out more effectively and solicit ideas that can ultimately help me make good decisions," he explains.
Humility is a virtue that Bakhtiar values. He is ever mindful of his responsibilities and the limited length of tenure as the Deputy Minister of Tourism, Arts and Culture of Malaysia. For this people-centric Deputy Minister who still takes the taxi or train to work, knowing the names of all the security guards at his workplace comes as no surprise. "It makes people feel valued when you call them by name. Be humble! Be nice to your people!  You will gain their respect, but you will have to earn it first," he says. "And you will ultimately gain their loyal support too."
When asked about what he finds most fulfilling in his life, Bakhtiar says that it is having the ability and resources to help people solve whatever problems they may have and to lead a better quality of life. "It is so heartening to see the smiles on their faces when you help solve their problems that may come in the form of a leaking roof, broken pipes or a medical procedure that requires some financial assistance. That may be my duty as a Member of Parliament for the people in my constituency, but it is first and foremost, my passion and desire as a fellow human being," says the Deputy Minister.