THE HUMBLING DISHES OF IPOH
Like any state of Malaysia, Ipoh is just one of the many places where varieties of exquisite dishes can be found – from humble street foods to quality restaurants like the popular chicken rice; here are three of their simple yet scrumptious dishes that they're pleased to offer.
Nasi Pandan
(Kam Wan Restaurant, 16, Pesara Ipoh, Taman Canning)
This particular hawker stall holds quite a queue for those who long for a bite of their Nasi Pandan and is always sold out by evening. With a heavenly scent from the green-coloured rice that has been doused in coconut milk and shredded pandan leaves, it's topped with various 'lauks' (slang word for side dishes) of your choosing. A personal suggestion is to try it with their fried chicken; a local favourite and just as flavourful.
2. Kaya Puffs
(Sin Eng Heong, 64, Jalan Mustapha Al-Bakry, Taman Jubilee)
Now this is a dessert that melts in the mouth! The popular Kaya Puff is especially flaky and warm with a generous amount of smooth kaya filling. A delectable treat that is the perfect balance between savoury from the puff and sweet from the filling – it's definitely a must, especially coming from locals whose own eyes glaze at the mere idea of it.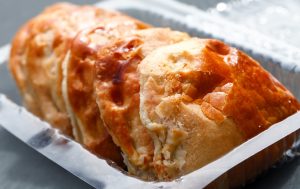 3. Funny Mountain Tau Foo Fah
(50, Jalan Mustapa Al-bakri, Taman Jubilee)
It is sworn by the locals and tourists that the Tau Foo Fah in Ipoh is basically an ambrosia especially in the Malaysian weather and a sworn delicacy if you're ever visiting the state. The soy beancurd from both drinks and dessert – is said to be so silky smooth and surprisingly flavourful that to just have one is simply preposterous. Uncle – give me three big bowls!