Spend Your 'Santapan Muhibbah 2.0' With Le Méridien Kuala Lumpur
As Ramadan month draws closer and it seems the pandemic is still not letting up as much as we had hoped, the team at Le Méridien Kuala Lumpur has found a way to welcome the blessed month under the new norm with a festive special back by popular demand.
Aptly themed 'Santapan Muhibbah', this delivery spread makes an exciting comeback following the overwhelming positive response it had last Ramadhan despite the pandemic. The elevated offerings include not just delivery and pick-up options, but a hearty 'Buka Puasa' buffet spread at all-day dining, Latest Recipe.
Boasting seven rotational menus, expect a showcase of the very finest family-style cuisine brimming with diverse flavours at Latest Recipe. To start off the traditional feast, diners could head over to the Malay appetiser station and choose over a variety of Malay appetisers such as pecal desa, tauhu sumbat, popiah basah, the Indonesian-style terung balado and nasi ulam. Whilst you are there, help yourselves to different varieties of kerabu dishes such as kerabu sotong (calamari salad with lemongrass, green mango-ginger torch & calamansi dressing), kerabu berlago kelapa kunyit (grated coconut salad with chili turmeric paste, and many others.
Warm up to a selection of soups such as our hearty and flavourful Signature oxtail stew, Moroccan lamb stew with baked beans, aromatic vegetables, yoghurt and potatoes, Asian-style spicy crab soup and prawn bisque served with coconut cream, vegetables, tofu and kaffir lime or sample our delicious Bubur Lambok, a traditional Malay porridge and be prepared for more to come.
Chef Budiman adds a little twist of his traditional recipes into the variation of main Malay dishes he has lined up for our diners to take pleasure from. Be sure to try out the selection of main dishes featuring Rendang Ayam Pencen (Old Chicken Rendang, Omega Boiled Egg, Coconut Candy – Thick Coconut Cream), Berbiri Maliki (Lamb Maliki with Apricot Vinegar, Tunisia Date, Tomato Sauce), and Rendang Kerbau Kuala Kangsar (Buffalo Tenderloin cooked in Rendang Paste). A traditional feast would also not be complete without our signature Berbiri Panggang (Roasted Baby Lamb with Baharah Spices, Garlic Vinegar, and Fresh Herb Coriander) accompanied with wok-fried vegetables and steamed white rice.
For some live goreng-goreng action, head over to the Malay main counter, where our chefs will be ever ready to serve you some instant fried Malay delicacies such as aneka pisang, nangka, keledek, keladi, sukun, cempedak, keropok lekor with sos pedas. Also savour our selection of soup noodles: – our signature Kuah Lemak Putih Jejari Surime Kepiting (Crab broth with coconut cream, clams and dried shrimp chili paste), laksa Siam, mee kari, and sup herba accompanied by a variation of condiments and toppings to choose from.
If you are not a fan of fried delicacies, then our assorted kuih-muih might just be the right pick for you. Drool over an assortment of kuih-muih from kuih tepung talam, kuih lapis, kuih sago ubi, pulut panggang, apam balik, lompang warna warni, kuih ketayap, kuih tepung pelita, kuih bingka pandan, kuih koci, assorted dodol, assorted Raya cookies, and not forgetting fresh dates.
If you are in favour of sampling international cuisine, indulge in a melting pot of dishes featured at the Indian, Chinese, Japanese, and Western stations. End your meal with traditional desserts all lusciously presented at the dessert counter. With selections such as ABC and Cendol complete with side condiments, bubur jagong bersago, bubur cha cha, bubur pulut hitam, sago Gula Melaka with coconut cream, durian soup with pancake rolls and a selection of soft serve ice cream, plain or fruity yoghurt will entice you for seconds as well.
This delectable 'Santapan Muhibbah 2.0' buffet dinner will be available at Latest Recipe from 13 April to 12 May 2021, and priced at RM 178 nett per adult and RM 89 nett per child. The same prices are also applicable to those who wish to dine during Hari Raya on 13 & 14 May 2021.'
Enjoy an exclusive early bird promotion of RM 128 nett per adult and RM 64 nett per child for reservations placed between 8 to 31 March 2021. On a separate note, all Marriott Bonvoy and Club Marriott members, as well as cardholders of selected banks, will enjoy 20% off 'Santapan Muhibbah 2.0' buffet throughout the promotion.
For those who remain cautious about the idea of dining out, welcome the blessed month as you break fast over a delicious 'Santapan Muhibbah 2.0' takeaway spread by Le Méridien Kuala Lumpur, in the comfort of your own home!
In partnership with ODDLE and available from 13 April to 12 May 2021, unlock the best traditional recipes in town through delivery and pick-up services. Choose from a total of four (4) curated set menus featuring classic Malay favourites. Specially curated by the hotel's Executive Sous Chef, Chef Budiman and his team of culinary experts, signature highlights comprise of all-time favourite dishes including Le Méridien Nasi Minyak Haruman Air Mawar, Bergedil Daging, Tauhu Tempeh, Bubur Lambuk, Beef Rendang with Toasted Local Spices and Roasted Coconut Flakes, Ayam Perchik and Lamb Kuzi, to name a few.
SET MENUS 1, 2, 3 AND 4 (on a per person basis)

MENU PRICES VARY BETWEEN RM 80NETT / RM 90NETT PER PERSON

Orders can be made up until 12noon on the day, for the day.

(3 hours' notice required for delivery / pick-up)

SET MENUS 5 AND 6 (for 4 persons)

MENU STARTS FROM RM 300NETT ONWARDS PER 4 PERSONS

(24 hours' notice required for delivery / pick-up)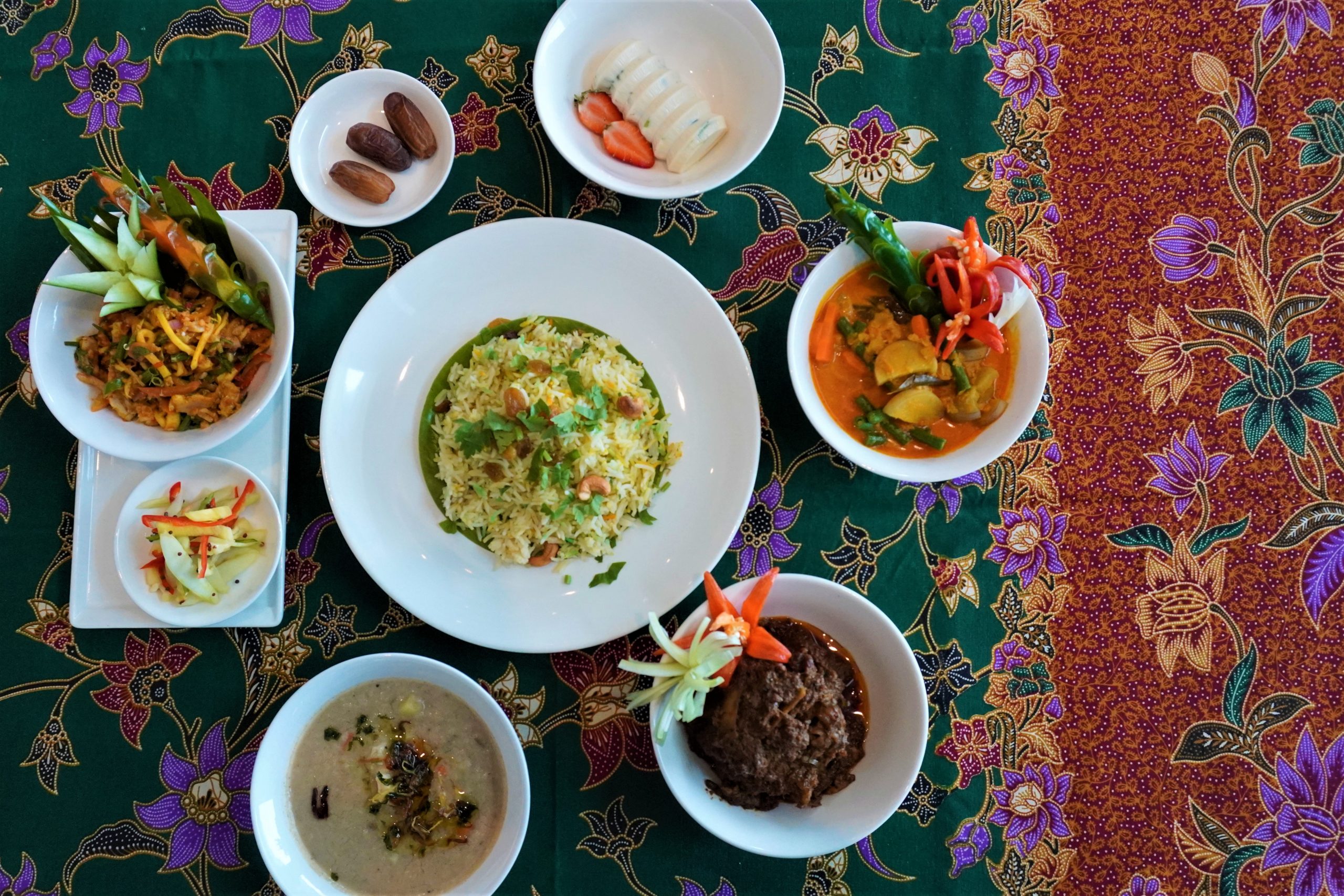 To discover more, contact our Dining Specialist at +60 3 2263 7434 or email dining.lmkl@lemeridien.com. One can also make a table reservation here.
Apart from set menus, diners may also opt from five add-on a la carte festive delight options to savour. All delivery and pick-up orders can be made via ODDLE https://lemeridien.oddle.me/en_MY.