Unbox Merdeka Joy From The Comfort Of Your Home Courtesy Of Le Méridien Kuala Lumpur
Selamat Merdeka Malaysia! We know you miss dining out and in serious need of an impeccable five-star hotel dining experience. Well fret not, as Le Méridien Kuala Lumpur has got you covered this Merdeka month with a smorgasbord of indulgence that you can enjoy from the comfort and privacy of your own home, with a little something for the little ones too.
Merdeka-Themed Choices
What better way to celebrate the 65th birthday of our nation than with a staple of our culture? Food! In view of 'Merdeka' month, Le Méridien Kuala Lumpur presents three options available for patriotic indulgence until Malaysia Day, 16th September.
'Next Level Nasi Lemak' by Executive Sous Chef Budiman (RM168 nett/per set)
(Photo Courtesy: Le Méridien Kuala Lumpur)
Introducing their luxe take on a perennial local favourite – the 'Next Level Nasi Lemak by Executive Sous Chef Budiman', a true testament to the Malaysian spirit of ingenuity that packs a tasty punch for those who are up for something a little different. The elevated #StayHome dining experience includes a succulent Sabah lobster coated in Chef Budiman's special rendition of tangy, sambal sauce, crispy deep-fried tiger prawns, Black Angus beef with truffled eggs and aromatic coconut-infused Jasmine rice.
'Taste of Home' Set Menus (RM64 nett/per set)
(Photo Courtesy: Le Méridien Kuala Lumpur)
Indulge in the best of traditional recipes with a choice of four curated set menus specially curated by the hotel's Executive Sous Chef Budiman and his team of culinary experts comprising of all-time favourite dishes such as the Le Méridien Nasi Minyak Haruman Air Mawar, Ikan Pelangi Panggang Sos Masam Manis, Daging Pesamah Kerisik, and Ayam Rose Kasturi Haruman Saderi Kacang Badam, to name a few.
Jalur Gemilang 'DIY' Cupcake Party (RM136 nett/per set)
(Photo Courtesy: Le Méridien Kuala Lumpur)
Remember that 'little something for the kids' we mentioned before? Well this is it! Consisting of eight cupcakes, a myriad of sweet topping choices, three icing flavours and complete with an edible 'Jalur Gemilang' flag topper, have fun creating little bite-sized delights with your little delights with Le Méridien's Merdeka-themed DIY cupcake kits.
Kristin Frederick-Inspired Truffle Burger (RM115 nett/per set)
(Photo Courtesy: Le Méridien Kuala Lumpur)
Back in 2019, Le Méridien Kuala Lumpur had the honour of hosting Guest Chef Kristin Frederick Malaysians, who was responsible for revolutionizing France's first food truck concept via Le Camion Qui Fume or "The Smoking Truck".
Now everyone can savour the work of the Californian Burger Maestro with their very own rendition of the Kristin Frederick-inspired Truffle Burger. Think Brioche Bun, Angus Patties, Caramelised Onions, Cheddar Cheese, and of course not forgetting, freshly shaved Truffles! Accompanied with Roasted Young Potatoes with Rosemary Mayo Truffle and Locally-Grown Romaine Salad, the Truffle Burger will be available throughout.
Café Gourmand (RM178 nett/per set)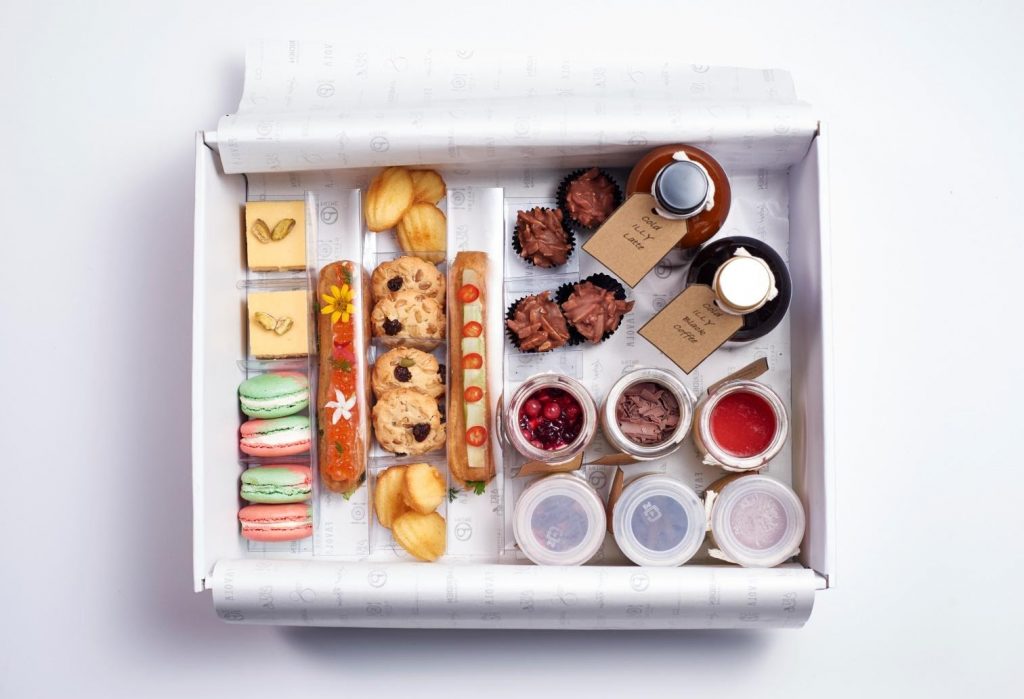 (Photo Courtesy: Le Méridien Kuala Lumpur)
A modern and sophisticated culinary concept, Café Gourmand is the practice of enjoying a coffee and three to four miniature sweets. Carefully selected to recreate an authentic Café Gourmand expérience à la Française, the Café Gourmand Box consists of sweets such as Caramel Chocolate Mousse, Kulfi Saffron Pistachio Cheesecake, Lemongrass Panna Cotta, Eton Mess, and Le Méridien Macaroons, to savoury eclairs such as Smoked Salmon with Sour Cream and Lemon Zest, and Chicken Tandoor with Raita and Mint Sauce. Typically experienced with an espresso or gourmet tea, take your pick of freshly brewed illy Coffee or Latte.
Go 'Lokal' Pound Cakes from (RM 41 nett/per item)
(Photo Courtesy: Le Méridien Kuala Lumpur)
Be it a delicious slice of heaven you'd like to treat yourself to, or a gift everyone would love to receive and enjoy, their delicious pound cakes are handmade to order and by the loaf and in an assortment of flavours such as Marble Chocolate Pound Cake with Musang King Durian, Carrots Halwa Pound Cake with Cashew Nuts and Raisins, Caramelised Banana 'Emas' and Grated Coconut Pound Cake, and lastly, Orange Poppy Seed and Lemon Curd Pound Cake.
All delivery and pick-up orders can be made via ODDLE. To discover more, contact their Dining Specialist at +60 12 215 8782 or email them here.