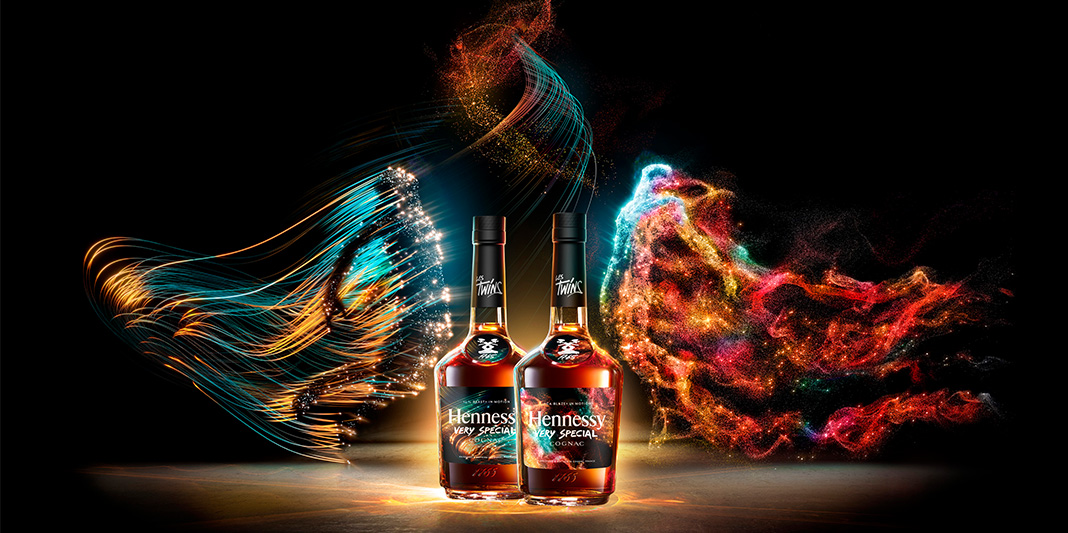 Maison Hennessy Taps French Movers And Shakers Les Twins For Dual Limited-Edition Collaboration Bottles
Hennessy has unveiled two limited-edition bottles in collaboration with French-born professional dancers and models, Laurent and Larry Bourgeois, also known as Les Twins. Dubbed "Hennessy Very Special In Motion," the pair has created a multi-media collaboration around the tagline "Move Out Loud" to celebrate French heritage and the pioneering spirit.
(Photo Courtesy: Hennessy)
The Hennessy Very Special bottles feature noteworthy reinterpretations to the Maison's typography and preserves each Les Twins' likeness and energy through particle simulation-esque digital images rendered and imprinted into the original limited edition concept using motion capture technology.
(Photo Courtesy: Hennessy)
In conjunction with the collaboration, the Maison will be premiering the first music video in their history for an original single composed and recorded by the duo titled "Mirror" inspired by Hennessy and their 'shared pride in French heritage.' The Les Twins will also serve as creative art directors for a limited-edition apparel capsule collection of elevated streetwear styles packed with 'energy, flair, and colour'.
(Photo Courtesy: Hennessy)

"We knew we wanted to create something completely new because the Maison has such an incredible story, with so much passion behind it," commented Laurent and Larry Bourgeois in a press statement. "Working with Hennessy is like going onstage with new energy. Hennessy's not afraid to mix things up. We're expressing that knowledge through movement – and our experience with Hennessy Very Special has changed how we dance."
The Hennessy Very Special in Motion by Les Twins collaboration will be available starting this September with the fashion capsule slated to launch in November.
Source: Hennessy