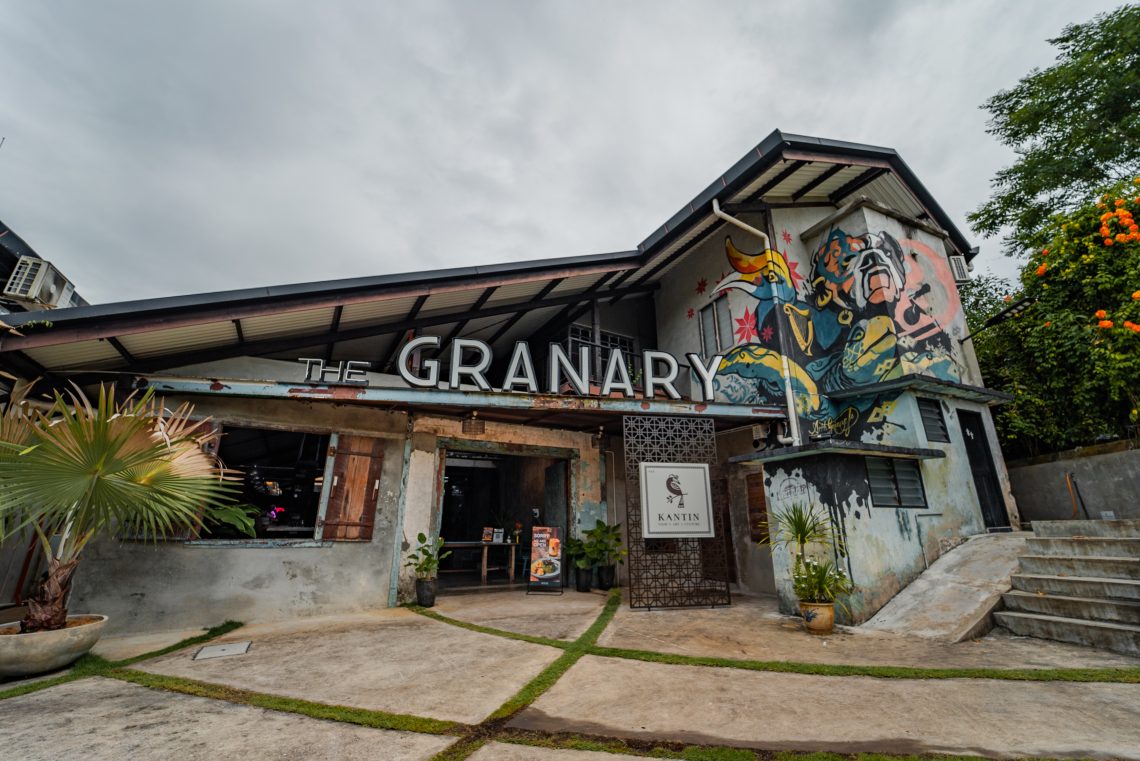 Kantin at The Granary: Inspiring a City through Creativity, Culinary & Culture
LIFE TO A HISTORICAL LANDMARK
Located along Wayang Street, a neighbourhood steeped in pre-colonial history, Kantin at The Granary is among one of Kuching's, a UNESCO City of Gastronomy, best-kept secrets. Sharing the compounds with the Marian Hotel, it is aptly named as a nod to the olden day rumours that it was a warehouse for storing grains, belian and opium in the 19th century. This place once began life as a pavilion of the Ong Ewe Hai family's ancestral home. The mansion was then converted into St Mary's boarding school and later a Diocesan guesthouse. Finally, in 2015, the warehouse was reborn as The Granary.
From lockdowns to dine-ins, whilst a newcomer in the food scene, Kantin has been stirring plenty of buzz since its opening.
As you enter through those doors, the brilliant architecture is definitely one to marvel at. Maintaining much of its natural feature during the restorative works, the space opens up to a large dining hall with warm wood furnishings, exposed original brickwork and a bar front made from upcycled doors and windows, contributing to its authentic character and rustic charm.
Kantin is a place where food, art, and culture are celebrated. Drawing influences from the culinary culture in the region, Kantin is built upon a Proud Sarawakian concept and aims to redefine Sarawakian cuisine by giving it a modern refresh.
Behind the brand is award-winning creative media team, Sarawak Eye, with a goal to inspire and educate a city one dish at a time about its rich and diverse culinary heritage. Amidst the pandemic, Kantin first opened its doors in 2021, making it a significant milestone for the team as their first venture into the world of Food and Beverages.
A MENU FROM PROUD ROOTS
The spirit of Kantin is vibrant and fresh.
It may be easy to write off Kantin as an "urban" and "hipster" hangout eatery. But make no mistake, everything here is curated with intention as part of the Kantin experience. From their tongue-in-cheek designed signboards, brilliantly designed menu, their colourful displays of dishes and all down to each layer of taste.
Sarawak is an untapped culinary goldmine. Its flavour is as rich and diverse as its people, just waiting to be uncovered.
Every dish is delightfully named to represent the identity behind it. From the streets to the rainforest, the kitchen creatively sources unconventionally used Sarawakian ingredients like jungle produce and special herbs and elevates them to their highest potential in the making of these dishes.
Through its dining experience, Kantin wants guests to feel a sense of intrigue and excitement about the play on ingredients. Ultimately, hoping that one would leave with a greater sense of appreciation and a deeper culinary understanding.
For the uninitiated, Kantin has two menu offerings. In the mornings, its Asian signatures include the iconic Rainforest Fried Rice, Superdry Laksa (the only dry version in Malaysia) and Nanasi (featuring Sarawak's very own pineapples). At night time, its "Not Quite Western" menu serves up the Kacangma Alfredo Pasta (a confinement herb), Angus Rib Eye Steak with Artisan Sauces (a Bornean sauces variety) and the Wild Honey Roasted Chicken (honey from the highlands). To top it all off, try their unique beverages like the Kantin Kaffeine, Sarawak Teh C Special and Tasik Biru Pearl Milk Tea.
Kantin takes their celebrations very seriously. Every season there is always something that guests can look forward to with their cleverly themed menus and events. Done with much enthusiasm and vigour, not to be missed are their Mid-Autumn Festival, Ramadan, Gawai and Christmas celebrations to crazily themed ones like Halloween and April Fool's that are made to be special.
It is here at Kantin at The Granary where you can discover and taste the soul of Sarawak.