Hilton Honors Launches Exclusive Dining Offer for The Asia Pacific Travellers
Hilton Honors want to give guests the opportunity to enjoy the many attractive privileges the award-winning guest loyalty program for Hilton's 18 world-class brands offers its membership programme with the announcement of its new Asia Pacific dining offer, 'Like a Member'. The offer includes discounts of up to 25%, as well as the chance to earn 500 Bonus Points across at any eligible Hilton-managed restaurants and bars in Asia Pacific, including takeaways, deliveries and alcoholic beverages.
Feast on the finest delicacies and surprising new flavours at some of finest getaways around South East Asia including:
The Shore Restaurant & Bar, Hilton Bali Resort, Indonesia
(Photo Courtesy: Hilton Honors)
The Shore presents a casual beachfront dining and lifestyle destination for guests to taste, play and sense as they dig into innovative, creative dishes that are locally and ethically sourced, as well as an array of summery cocktails, mocktails and The Shore's signature long drinks. The multi-story restaurant also boasts an alfresco setting on the first level, a semi-open lounge on the Mezzanine, and an open-air rooftop on the third level, complete with distinct dining concepts that evolve over the course of each day.
Makan Kitchen, DoubleTree by Hilton hotels, Malaysia
(Photo Courtesy: Hilton Honors)
Makan Kitchen introduces local influences from Malay, Chinese and Indian cuisines in a laid-back restaurant setting that caters to families, friends and business professionals alike. Makan Kitchen presents elevated authentic street food, prepared using premium ingredients and traditional cooking methods, accompanied by scenic city views and alfresco dining at selected hotels. Makan Kitchen restaurants can be found at DoubleTree by Hilton Johor Bahru, DoubleTree by Hilton Kuala Lumpur, DoubleTree by Hilton Melaka, DoubleTree by Hilton Penang, and DoubleTree by Putrajaya Lakeside.
Kusina Sea Kitchens, Hilton Manila, The Philippines
(Photo Courtesy: Hilton Honors)
Kusina Sea Kitchens captures the warmth of classic Filipino kitchens and marries a rustic yet stylish ambience with the buzz of an open kitchen, and presents a wide range of authentic Filipino and international cuisine. Signature experiences include the Dampa station, where seafood and meats are prepared over a grill of lava rocks, and the Samalamig station, which offers homemade Filipino refreshments.
Front Room, Waldorf Astoria Bangkok, Thailand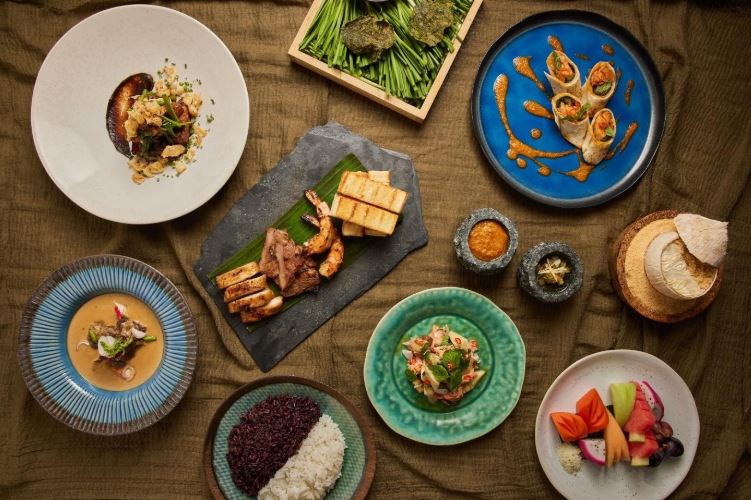 (Photo Courtesy: Hilton Honors)
Showcasing a fresh dining concept celebrating authentic home-cooked Thai meals, Front Room celebrates the eight distinctive flavors of Thai cuisine with a menu representing a culinary collaboration with culinary professor Dr. Niphatchanok Najpinij, and is influenced by a culinary heritage bestowed on her by her mother. The gastronomical experience, inspired by ros mue Mae (or "cooked by Mother"), presents dishes such as Coconut Broth with Salted Beef Cheek, Shallot and Chili, and exclusive plant-based dishes with full Thai flavors, such as Lotus Stem, Pomelo and Homemade Chili Paste.
Golden Peony, Conrad Centennial Singapore, Singapore
(Photo Courtesy: Hilton Honors)
Helmed by celebrity Executive Chef Ku Keong, the highly sought-after Golden Peony invites diners to feast on classic Cantonese cuisine, across superbly refined dishes and signature dim sum in a variety of exotic flavors. Diners are also able to craft their own tasting menus with interchangeable signature dishes through the Discovery Menu – culinary highlights including the Eight Treasure Seafood Soup and the Crispy Soft-Shell Crab with Salted Egg.
Hornbill, DoubleTree by Hilton Weerawila Rajawarna Resort, Sri Lanka
(Photo Courtesy: Hilton Honors)
Hornbill features a swim-up bar and deluxe relaxation lounge area, encouraging diners and hotel guests alike to unwind while relishing breath-taking views of the surrounding lake. The restaurant offers an array of delightful Sri Lankan, Asian or Western dishes, as well as a selection of tropical concoctions for guests to indulge in.
The 'Like a Member' offer is currently available across South East Asia, and will be valid until December 31, 2021. To take advantage of the full spectrum of member benefits, enrol now for free at HiltonHonors.com.
Source: Hilton Honors