Fireside Rekindles the Flame of Open-fire Grilling with Opening in Central's H Code
H-Code's newest epicurean oasis pays homage to cooking's primal roots with a rustic yet refined open-fire culinary experience.
Rediscover Open-fire Dining: A Departure from Modern Haute Cuisine
Cooking returns to its primal origins at Hong Kong's newest gastronomic mecca, situated within the epicurean enclaves of H-Code on Pottinger Street, directed by acclaimed Executive Chef Miguel Gallo. Fireside is a dance between man and fire, and presents the naked complexity of each and every ingredient, demonstrating how every element – from season, soil, to age, feed, and climate – manipulates the ever-changing and dynamic flavour profile of an ingredient. The kitchen, the first of its kind in Hong Kong, forgoes modern cooking utilities, and only makes use of an open-fire grill fuelled by select varieties of wood and binchotan, to allow Chef Miguel Gallo's culinary team to execute a bare and raw style of cooking. The preparation methods reflect those before traditions and techniques forged cuisines and allow culinary expression to freely roam. Fresh fish and seafood travel from harbour to venue within hours, wild & rare breeds of meats are hand-selected and imported from specialised producers, and select vegetables are brought to the flame from local farms. From butchery, to smoking and aging, to grilling and presenting, the entire process takes place in-venue before diners. Reconnect with the plate, as Fireside rekindles the relationship between each rudimentary, yet exceptional ingredient, to impart unique flavours with a curation of exotic firewood embers and smoking techniques.
Rare & Specialised Meats
Starting with cutting and portioning in the purpose-built open-display Butcher Room, the intrinsic flavours of select heritage meats are enhanced through dry-aging, curing and smoking over selected varieties of wood in-house. With an extensive selection ranging from the succulently herbaceous beef of the compact and rustic Galician Cachena – celebrated for its textural qualities and distinctive flavor – to the semi-wild mountain-native Herdwick Sheep, Fireside presents the finest smorgasbord of meats fine-tuned for any refined palate. Fireside adopts a meticulous approach to food by preparing whole carcasses and savouring every part, and in the process, reduces waste while making use of all available flavours.
Finely Aged & Cured Seafoods
From seasonal locally-caught prized fish brought in daily, and the much-coveted coral trouts, dry-aged in-house to accentuate intrinsic tastes, Fireside is equally daring with its seafoods and fish as with its meats. In curing the selection of fish on the menu, flavours are enhanced with an added umami complexity, further accentuated and compounded with hot smoking over selected types of wood, to produce fish dishes with an intense and unique flavour. With ingredients stripped to their most natural state, Fireside is dauntless in its gastronomic ethos. Marvel at the curation of rare meats and seafoods, expertly chosen based on their unique flavour profiles, previously undiscoverable in Hong Kong's formidable dining scene.
Mastery of the Flame: Diverging from Cuisine & Tradition
Turning the crank wheels of the Mibrasa Parrilla, the first of its kind in Hong Kong, Fireside's expert culinary team adjusts the height of the grill over the red-hot embers, skillfully bringing out the most authentic flavours of the freshest ingredients in each unique dish over the hearth. Borrowing elements from Spanish, Japanese, and Latin American cuisines, Fireside does not lend itself to any specific culinary traditions, but instead centers its philosophy on bringing out the best flavours from individual ingredients through their elemental cooking methods.
With roots in Italy and South America and extensive gourmet experience in Spain and Hong Kong, Executive Chef Miguel Gallo – formerly of the esteemed Aqua Restaurant Group and Smoke & Barrels – has been exposed to different culinary traditions, and this has influenced his holistic approach to food. Unrestrained by the traditions of regional cuisines, Gallo's culinary creativity remains infinite, and his extensive experience in gourmet wood-fired cooking at Bravo24 in Barcelona demonstrates his prowess in manipulating flavours with smouldering flames. His illustrious background includes world-class restaurants such as the iconic El Bulli alongside famed 3-Star Chef Ferran Adria and Bravo24 under the renowned Carles Abellan. It was under Abellan that Miguel honed his skills in Basque-style open-fire cooking with the Parrilla, delving deep into the art of curing and aging meats as well as developing an incredible knowledge of rare and specialist breeds and cuts. Chef Gallo recalls a particular exercise in his early career, where he was given a single ingredient and challenged to present a dish from the ingredient alone. "This exercise changed my way of thinking from fine sauces and embellishments, to 'how can I interpret this single ingredient and accentuate its individual flavour profile'" Chef Gallo notes.
One-of-a-Kind Signature Dishes
A signature dish flaunting Fireside's outstanding ingredients, deviation from culinary traditions, and meticulous approach to cooking is the Duck Confit Rice with Morel Mushrooms, flamed to perfection over a specialised grill, perfumed with the aromatic essences of Almond wood, and served in a sizzling square skillet. Equally impressive are the succulent Hokkigai sourced from Hokkaido, fire-basted in aged Mangalica pork fat using a special flambadou, resulting in juicy and aromatic morsels of sensational meat and seafood flavours.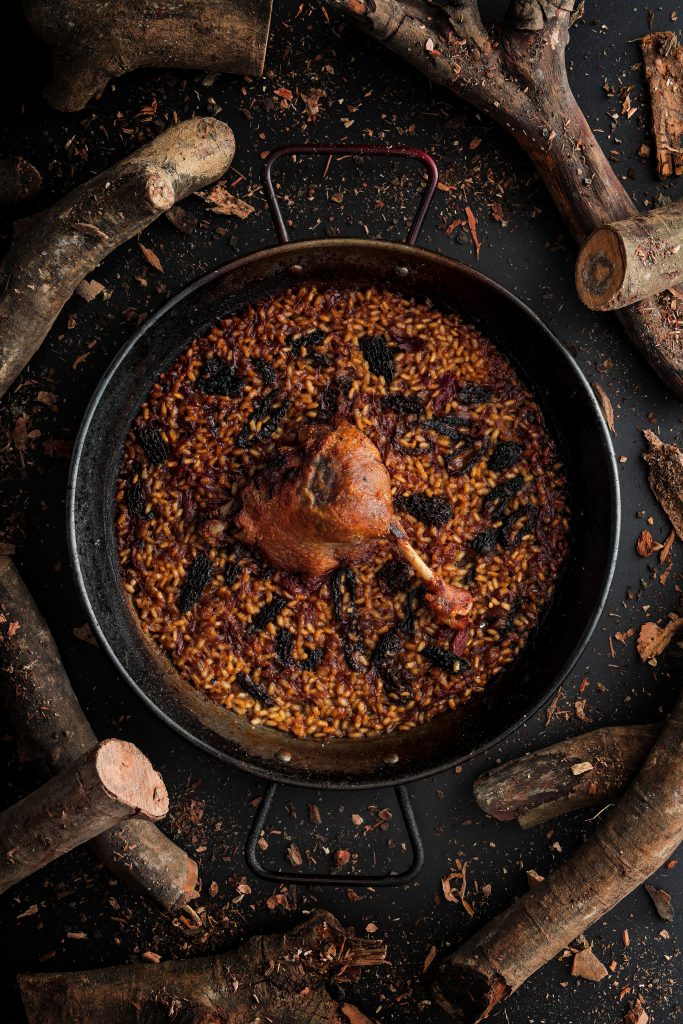 Among the wild signature flavours at Fireside, are an incredible range of smoked and cured meats and fish. A particular highlight of Ora King Salmon, is a centrepiece of Chef Gallo's showcase of smoking & curing expertise. The salmon is cured for 3 days, smoked over Apple wood, and served bare to present its deep and complex flavours without obstruction.
Interior Design
Step into Fireside's refined rustic interiors, and be immediately greeted by a lavish library of artisanal and dry-aged meats on display in our custom-built butcher room. Perfumed with the scent of sapid grilled meats, each section of Fireside's warm and extravagant space designed by Myron Kwan of M.R. Studio provides a welcoming sanctuary for gourmands with adventurous appetites.
Resembling a sophisticated smokehouse, Fireside introduces a revitalizing open kitchen concept, featuring the signature Mibrasa Parilla and tailor-made brick oven. Sit adjacent to the warm, flaming embers and enjoy a raw culinary experience echoing an elevated backyard barbecue, or enjoy an intimate meal in our exclusive private dining room, designed for parties of eight. Alternatively, enjoy a breezier al-fresco dining experience on the balcony with aerial views of the city below.