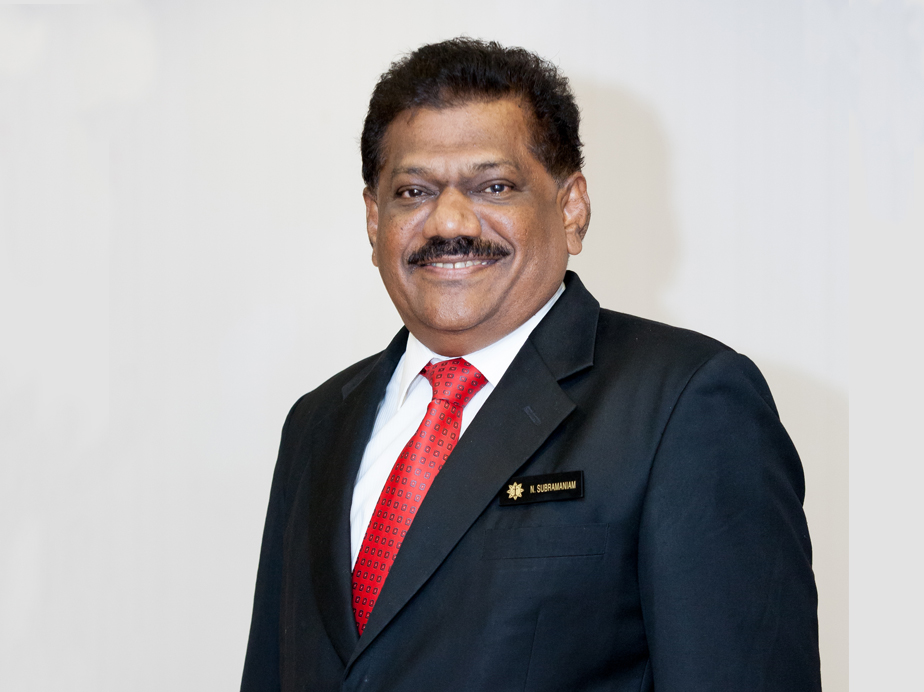 A PASSION FOR HOSPITALITY THAT GOES THE DISTANCE
Growing up with parents who are service oriented and sociable in nature, Dato' N Subramaniam was exposed to the hospitality industry since he was a child. Over the years, his family has been a host to many friends, dignitaries and royalties. In an interview with Asean Food & Travel, the President of Malaysian Association of Hotels (MAH) talks about his experience and passion to serve in the industry and also the establishment and roles of MAH.
Dato' N Subramaniam's late father established P.C.B. Resort in Kelantan, a resort that caters to tourists who wish to escape the hustle and bustle of city life to a tranquil seaside getaway. "We had the honour to host Queen Elizabeth of England and Prince Philip at PCB Resort," says the President.
"Early in my career, I worked for an investment company in Kuala Lumpur. Then I became involved with real estate, restaurants, retail, and product-related businesses," says Subramaniam. "After working in various parts of Malaysia and venturing overseas, I eventually returned home to Kelantan and looked after the family business. I've remained committed to the hospitality industry ever since and continued to take on leadership roles in this arena."
Subramaniam presided over the Kelantan chapter of the MAH for 15 years. "I was elected as the National President of MAH in September 2020. Currently, I am also one of the Vice Presidents of the Malaysian Association of Indian Chambers of Commerce to be a voice for Indian businessmen throughout Malaysia," says Subramaniam. "Locally in Kelantan, I was appointed as an ahli majlis at the Majlis Perbandaran Kota Bharu. I was also involved with the Lions Club of Kota Bharu and was instrumental in helping to build a Down's Syndrome Centre. I am also very active in our local Hindu temple community."
"The MAH started in 1974 by a group of hotel general managers. During the infancy of the tourism industry in Malaysia, training and education were scarce," shares Subramaniam. "One of the initial goals which MAH was committed to, and is still being focused on today, is to establish a competent workforce in line with international standards through training and education."
Since the establishment, the association has grown to over 1,000 members and 13 chapters. "Today MAH has over 1,000 members that represents over 60% of the hotels inventory in Malaysia, which is about 160,000 rooms," says Subramaniam proudly. "We have become the leading voice for the hotel and hospitality industry over the years and remained committed in our efforts to support our membership, advocate for common interests, provide necessary training and education, and promote tourism."
MAH's mission is to act as the voice of the industry, working as one body to promote, protect, represent and advance the interests of its members. "I hope that MAH will be able to play a greater role in advancing the standing of Malaysia as a cultural and tourist hub. MAH has also worked with the government as well as other travel-related agencies during the COVID-19 pandemic," he says. "Ideas have been exchanged and implemented to manage this crisis. MAH has stood by its members by constantly seeking assistance and information from the authorities. MAH has also initiated several initiatives like MAH Cares, where we provided some essential food items for hotel employees who were greatly affected financially by the pandemic."
Subramaniam's professional and personal life overlap extensively. "In my personal life, I try to be of service to my family, friends, temple community, and social causes. In my professional life, I try to be of service to my employees, colleagues, board members and guests. In both areas, I try to focus on hospitality, service and contribution."
"In the wake of the pandemic, many young people may think twice about venturing into the tourism industry. As a hotelier and someone who has lived in and around the industry my entire life, my advice is to encourage young people to pursue it if it's their dream. The demand for smart and skilled professionals in this industry will grow at a fast pace worldwide as travel and tourism begin to flourish again, "advises Subramaniam. "Pursue this work if you are called to it and very simply, always put the guest first."