Covid-19 Ain't Stopping These 10 Popular Takeaways
With the seriousness of the Covid-19 pandemic, it is a wise move to stay at home to avoid the spread of the disease – but unfortunately for those who can't cook to save a life, we thank the genius who thought of takeaways! So here's our list on Malaysia's popular takeaway choices before we decide to stuff our faces with instant noodles everyday.
DahMakan
This mobile food delivery service that serves their own quality food at affordable prices, it was practically my go-to for lazy workdays where walking to a nearby café seemed quite a chore. From Western cuisines to local delights, they have it all – along with special deals for certain sets you could have Dunkin Donuts or Tealive all within reasonable prices. Now, how am I ever suppose to leave the comforts of my bed when I'm stuffed with all these rich food?
FoodPanda
Practically everyone has heard of this growing mobile food delivery service that basically charges no tax but only the dish you order. From something as simple as a Starbucks drink to the restaurant you'd be craving for – it is no problem for a company that specializes in delivering your dishes in a scrumptious condition – and to relevantly quote from the movie Storks that should really be their slogan – 'Always deliver!'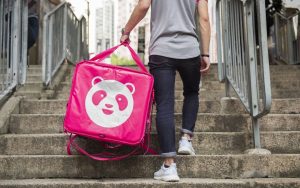 McDonalds & McCafe
Come on, fast food is surely the number one takeout for any lazy person and McDonalds has always been one of the favourites for both as a fast food restaurant and quality delivery. You name it, they probably got it – from ice-cream to apple pies, from lattes to cakes, burgers and fried chicken – you catch my drift? McDonalds – we're still lovin it!
Subways
The all-around guiltless 12-inch sandwich, is a much more healthier version (unless you don't really pile your veggies – but you know, that's your decision) for those who wish to keep within the diet but still crave for the closest thing to a hearty burger. Plus, we can never ignore their heavenly, buttery cookies. On a personal note for those who have never had their cookies – the White Chocolate Macademia Nut is to die for.
TeaLive
Bubble tea is a godsend from the Asian creative minds, and I personally adore their Nishio Matcha Latte – so thank goodness they are still open from the little corners in gas stations to their own corner shops. So get your fill with bubble tea, smoothies, lattes, chewy pearls and all that milky goodness.
Pizza Delivery (Domino's & Pizza Hut)
You'd thought we'd be done with fast food, didn't you? Well not without adding the topping of all fast food chains – pizza. The peasant food that became a sensation and thankfully, we've always had the delivery service ready to accomadate our lazy selves with the ultimate comfort food for a whole day and night in with movies.
Mamak Stalls
The local Malaysian delight to hanging out after dark, a place to be chaotic on football and always being both filling and cheap. With the everything that's happening in our country, it is a dear surprise that Mamak stalls will still stay open but of course, for limited time (they need to stay safe too!) so without a doubt, our Roti Canai's and Tandoori Chicken's are there to be on the go.
Starbucks
Our popular, hipster coffee cafe are still running so coffee fanatics – we can chill; as we're still getting our dose of frappucino, machiattos and whatever new Italian name for a coffee that we can think of. Though of course, it's been restricted to actually drink and dine their desserts. But let's be real; it's basically no different – after all, they still use the same cups.
Sushi King
The first food that pops into our head when we think of Japanese food? – Sushi. Delectable sticky rice with seaweed wraps and fish of choice – it varies to your tastebuds, and thankfully – the service is still open for takeaways with food delivery services of your choice to help gather the bento boxes and fill your sushi delight!
Nando's
Why did the chicken cross the road? Because Nando's forced it too. Nothing is gonna stop this restaurant from blooming even with our current events – using food delivery services like Food Panda, it's been their primary way to get as close to the full dining experience all in the safety of people's home. Their sauces are readily packed, chicken served deliciously hot – Nando's is ready to sacrifice that chicken to satisfy our chicken desires.