KENANGA INVESTMENT BANK COLLABORATES WITH DIALOGUE INCLUDES ALL BY SUPPORTING THEIR PROJECT, CAFÉ INCLUDES
Kenanga Investment Bank Berhad has always been actively working on and helping out in various forms of CSR activities and initiatives. In a recent interview with Chuah Sze Phing, Head of Group Marketing & Communications, Kenanga is responding to increased social and community needs especially in the COVID-19 environment, the Bank today launched The HumanKIND Project to empower Malaysian social enterprises working with marginalised communities, particularly the disabled and differently abled. The Project will commence with enhanced support for the Bank's long-standing social enterprise partner, Dialogue Includes All, which runs Café Includes, an independent café in Petaling Jaya operated by a team of people with disabilities including those with low vision, the physically challenged, hearing-impaired, autistic and others. 
Kenanga Investment Bank Berhad was established 50 years ago in 1973 by its  Founder and Adviser, YM Tan Sri Dato' Paduka Tengku Noor Zakiah Tengku Ismail. Despite being 94 years of age, she is still very active in the company. "Besides being an entrepreneur, she was also a philanthropist with a passion to make changes for the better in the lives of others," says Chuah Sze Phing. 
Tan Sri Tengku Noor Zakiah became a fashion designer in the 1950s and 1960s and would hold fashion shows with the expatriate and air force community to raise funds for charitable causes. "During the Asian financial crisis in the 1990s, Tun Dr Mahathir Mohamad had a government relief fund and she led the Stockbroking Association with Kenanga at the forefront and successfully raised a huge sum of money to contribute to the fund," says Chuah. 
"We are actively supporting an organisation called "Dialogue Includes All" (DIA), formerly known as "Dialogue in the Dark". The Social Enterprise is operated by DID MY Academy Sdn Bhd and licensed by Dialogue Social Enterprise GmbH since September 2012, an international group of social enterprises which started in Germany," says Chuah excitedly. "Café Includes is an initiative under (DIA), it is spearheaded by disabled activist Stevens Chan and established in 2018. The cafe is an independent café in Petaling Jaya operated by a team of people with disabilities (PWDs)."
Kenanga's campaign, "The HumanKINDProject" will be launched to empower Malaysian social enterprises working with marginalised communities. "The central philosophy of the Project is our shared humanity. In a time of distancing and isolation, it is all the more important that we find ways to reconnect and amplify the essential qualities that make us human, which is kindness, compassion and empathy," says Chuah.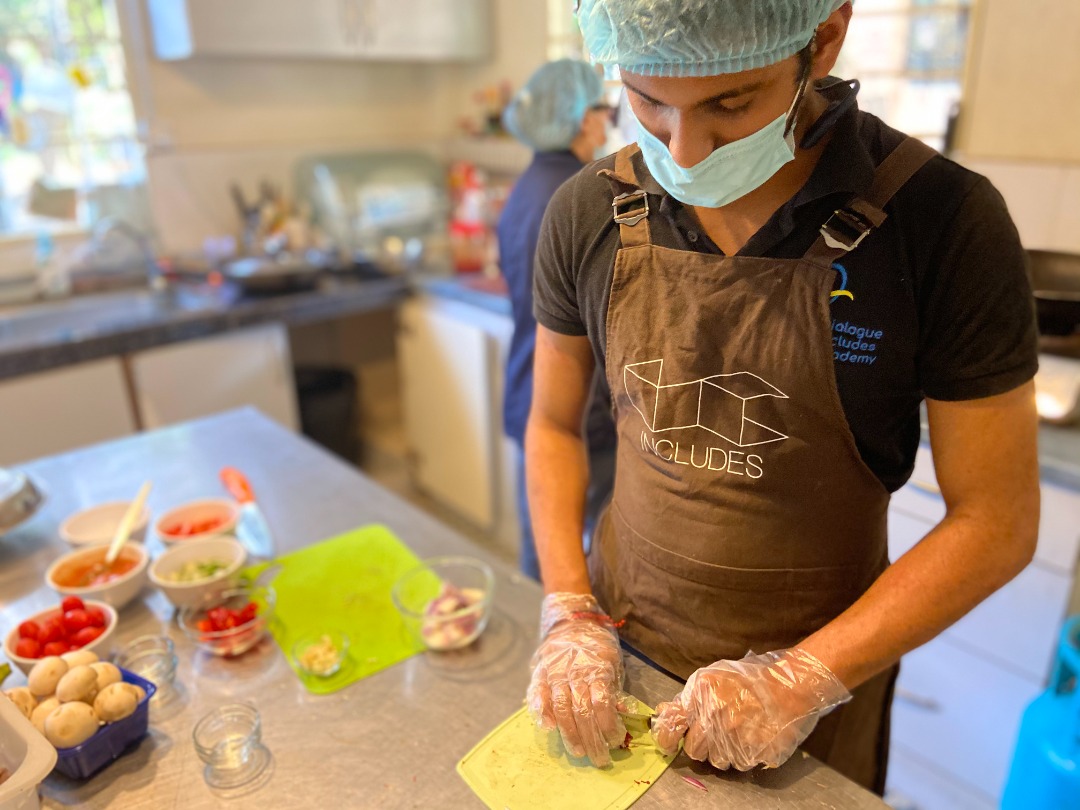 "We are supporting Café Includes as through the café, DIA seeks to provide PWDs training in food and beverage handling and preparation as well as the necessary business and management expertise required to run an independent and financially sustainable enterprise. Before the lockdown, the organisation held activities such as The Dark Experience Centre tours for fundraising, which is an experiential hour-long tour, where visitors are led by blind guides in groups through specially constructed dark rooms," says Chuah. "In 2019, they started "Art Includes", an arts festival for persons with disabilities, with a mission to foster, cultivate and harness mindsets on inclusions despite diversities through arts and music. DIA also provides free tuition to the blind and deaf children as well as offers training to disabled youths in economic enabling programmes. Today, the academy also has schools for urban farming, telemarketing, hosting virtual tuition and a café, all introduced to help People with disabilities to become entrepreneurs."
"We provided some funds for DIA to start the café. It is now relocated at Jalan Gasing in Petaling Jaya. We would like to promote the café to the public to make a social impact so we would like to encourage the public to try out the meals at Café Includes. The Bank will sponsor 100 customer orders (with a maximum of RM20) made to the Café, every Friday starting on 19th February. These orders may be placed via the Grab food delivery service, redeemable with the promotional code "HumanKIND"," says Chuah. "Kenanga will also work with other frontline non-government organisations that assist marginalised B40 groups and the homeless, to ensure some of these orders reach others who are in need and may not have access to online ordering systems."
Marginalised communities in Malaysia face difficulties on many levels, including access to mainstream services and facilities and these difficulties have become a lot more urgent after more than a year of intermittent movement control. Kenanga has been supporting DIA since its inception in 2012. With around 45 members to support, they require 100 orders a day to break-even, and they hope corporates and individuals alike will join them in this move to help sustain their enterprise. 
"We would like to invite everyone to join us in supporting Café Includes, and other social enterprises out there. Your everyday purchases could be used to help transform lives in a most positive way," says Chuah. "Kenanga has a long history of social responsibility interventions led by its founder, ranging from fundraising, community outreach to corporate social responsibility. The HumanKIND Project builds on this tradition as a focal point of Kenanga's philanthropic efforts, which the Bank hopes will act as a catalyst for wider social action. Therefore, we would like to call on corporations and individuals to join in a broad social movement to push forward the ethos of The HumanKIND Project by supporting social enterprises as the best agents of change to empower, inspire and assist those who are most in need."