WHISK Reimagines Culinary Artistry Through Craftsmanship in French-Japanese Menus Evolving with Seasons
Hidden in the heart of Tsim Sha Tsui at The Mira Hong Kong, Michelin-recommended WHISK offers an elevated dining experience showcasing craft cooking techniques in its innovative, ingredient-led French-Japanese menus curated by Chef William Lau. WHISK's recently appointed chef de cuisine has just introduced a new mid-summer "Finesse" dinner tasting menu and gourmet "Taste of Craft" lunch sets, while omakase dining remains an alluring option of a truly experiential gourmet journey at dinner.
The Culinary Mastermind of WHISK
Directed by up-and-coming culinary mastermind Chef William Lau, who has been meticulously trained at Michelin-starred restaurants across Hong Kong, WHISK is an expression of his unique culinary identity and the capabilities of local chefs. He began his cooking career at the young age of 16, working up the ladder at respected local establishments, which enabled him to expand his horizons while travelling the globe, developing an open mind and a creative spirit in his culinary approach. His mindset and meticulous attention to detail are now clearly and freely demonstrated in creative culinary craftsmanship as the Chef de Cuisine at WHISK, where he has carefully designed new menus showcasing the summer's seasonal ingredients.
An Ingredient-Led Journey of French-Japanese Flavours
WHISK's tasting menus are painstakingly detailed, showcasing a thoughtful selection of seasonal ingredients sourced directly from Japanese suppliers and local farms to ensure freshness and immaculate quality. Each dish pays tribute to nature's seasons while maintaining the element of surprise. From preparation to plating and presentation, the culinary journey takes unexpected turns, keeping the dining experience fresh and exciting. Chef Lau imbues his precision and creative craftsmanship in the conceptualisation and execution of each course, taking fresh and celebrated ingredients and moulding them into edible works of art. The culinary team eagerly introduces each dish to the guests, giving nuanced descriptions of the preparation methods and how each element contributes to the final tasting result.
Finesse: A Mid-Summer Showcase of Seasonal Ingredients
Launching just in time for Mid-summer, WHISK's constantly evolving dinner menu, "Finesse," includes 6 or 10 courses, and continuously changes to showcase ingredients at the peak of their seasonality. Each course on the comprehensive 10-course menu carefully integrates traditional Japanese elements, while adapting time-intensive cooking methods and presenting ingredients in unexpected combinations. French-Japanese "Finesse" is one of the facets of craft on the table at WHISK.
Chef Lau begins the gourmet journey with an intricate yet full-bodied amuse-bouche of charcoal-grilled eel over a pan-seared buckwheat blini. The robust flavours of this dish are enhanced by black garlic purée, thyme cream, and miso-cured egg yolk gel, with a careful garnishing of pickled celery and kombu with prickly pickled sansho berries. This bold starter provides a welcome introduction to the impressive carousel of dishes that follow.
As an embodiment of "Finesse", Chef Lau presents a decorative tart embellished with gelatinous petals of Japanese yam, hiding milk-poached codfish within, topped with French farmed sturgeon caviar, in a wooden box scented with fresh thyme leaves. This intensely flavoured yet delicate tart captures the fresh taste of the ocean's brininess, which contrasts the crisp aroma of fresh thyme, giving the dish a multisensory dimension.
Following the tasting of seasonal seafood with delicate Hirame served with piquant shishito pesto and gentle Yari-ika with smoky passionfruit and Okinawan okra, Chef Lau gives diners the choice of Guinea Fowl barbecued with baby carrots and spicy harissa or the char-grilled A4 Saga Wagyu Ribeye. Succulent and savoury, the Wagyu is drizzled with okonomiyaki sauce and Japanese mayonnaise, before being blow-torched à la minute and served with crispy nori for added umami and textural contrast.
The menu ends with Chef Lau's refreshing interpretations of ingredient-focused desserts: in one, seasonal Japanese white peach is served with floral accents of rose and hibiscus; another is a play on the versatility of Japanese root vegetables with creamy taro ice cream adorned with shiso flowers served along taro and chocolate mochi with crisp taro petals.
Each dish seamlessly complements the next, allowing diners to encounter a symphony of French-Japanese flavours. While seemingly simple in presentation, each dish requires meticulous attention to detail, from their intricate shapes to their respective temperatures ensured by table-side finishing touches, resulting in a journey of flavours that is equally enjoyable and eye-opening.
Omakase Dinner: A Demonstration of Chef Lau's Creative Flair
"Finesse" dinner tasting menu is an exciting first encounter of the French-Japanese craft on the table at WHISK. For those who enjoy the element of surprise, Chef Lau also offers an original curated omakase dinner experience, highlighting a careful selection of seasonal ingredients in an unexpected dining journey. Patrons in search of such unconventional gourmet dining, perfect for celebratory occasions or a return visit, are recommended to make a reservation in advance.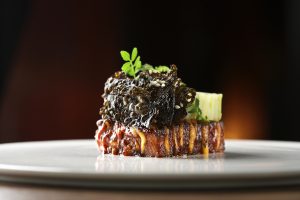 "Taste of Craft" Lunch Menu: Gourmet Dining in the Heart of Tsim Sha Tsui
Catering to the demands of Hong Kong's dedicated gourmands, accessible in Kowloon, WHISK's five-course "Taste of Craft" Lunch Menu, stays true to the craft on the table concept, showcasing sophisticated preparation methods and unparalleled culinary creativity in dishes such as delicate Cauliflower crispy served with chilled cauliflower dashi consommé and seasonal Yamanashi Peach with rose and hibiscus. Premium edition entails six courses featuring luxuriant ingredients from Lobster with Uni to A4 Saga Wagyu with a creative okonomiyaki twist.
Rediscover ingredients and re-shape your understanding of fine dining at WHISK, as Chef William Lau strips away traditional conceptions of gourmet artistry through his exceptional craftsmanship and unexpected execution, paired with friendly and attentive service.